So I glimpsed the SWPD blog today and under the "Feel Entitled to Touch Black Women's Hair", a commenter wrote this under the name "Get Ready":
Are you ready for this? I had just graduated from college and got my first "real" job at a mostly white law firm. I was bent over my desk picking up some paper clips off the floor and a white woman who also worked there smacked me on my butt, right in front of everybody. She smiled and the white men she was standing with chuckled and one even said "oh now sweetie how could she resist". The white woman went on to state that my backside was "just so round and perky". I felt so sad and humiliated. I felt like I was on an auction block, like "look'a here we have us a high yellar gal here with a big round arse for ya'll". I also felt ashamed of myself because I said nothing. This happened in 2003. In the 21st century they felt comfortable enough to do this and I felt powerless enough to let them.
Wow
.
Yes, I actually
do
have more to say on the matter--quite a bit actually--but let me just get this out first:
Wow
.
How We Are Seen and Who's Doing That Seeing
Black women are often seen as "bitchy" and "cold" and "unfriendly" to a lot of non-black people (
many black men
say it too, but
they're not the ones
I worry about). It's safe enough to call it a bona fide stereotype. The funny thing is (and no, it's not actually funny), people who swear by said stereotype never really stop to ask
why
this is
(and I'm not talking hearsay or opinion). They sort of just take it as gospel and run with it.
When non-black POC do it, it's usually because they've taken their cue from white people on how to see and deal with black people. So for all you non-black POC out there reading this who actually do that, here's a quick fashion tip from moi to you: when you're a person of
color
, learning how to deal with
other
people of color from
white
people is the absolute
dumbest thing you could ever do
.
Now, this isn't an "allegiance" thing. This is a common
sense
thing, and here in America, there's often a very high allergy rate where common sense is involved. If you're a person of color who dodges black folks and feels more comfortable with, and better understood by, whites, then you should know that 85% of non-Hispanic whites in America (as in roughly 194 million people, or 63% of America's overall population)
don't
live in neighborhoods with people of color. They do not effectively interact with people of color. They do not have close friends or relatives of color.
This not by
accident
, FYI. 194 million people is
never
an "accident".
The other 34.2 million non-Hispanic whites are living amongst POC because they want to, but it's even more likely because they
have
to (poverty, low social pedigree, college housing, etc.). So if you're a non-black POC learning from whites on how to deal with blacks (and by extension, whichever other "unsavory" POC you've been "warned" about), you're actually taking advice based on the very limited insight of people who have far
less
in common with you than the people you're getting advice
about
.
Now, What We See...
When you're a black woman living in America, you often find non-black people have a lot of fucked up preconceived notions of you. They wonder if you're a druggie or a drinker, even though white males
have that market cornered
. They figure you're naturally angrier and more aggressive than other women, even though social and clinical studies
have already debunked this
(of course, how
dare
we expect people to know that). At some point during your week,
a white male will assume you are a whore
, no matter where you are, what you're wearing, or how old you are. In the same vein, people also assume you have multiple children, and that no two of your kids' fathers match.
And when you're a black woman, in the [extremely] rare instances non-black people
aren't
automatically assuming there's something inherently dysfunctional about you, people tend to think you're just not...
quite
...altogether
human
.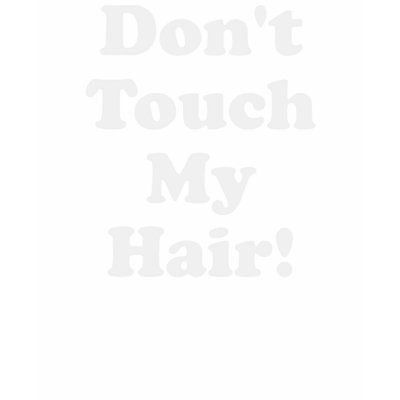 Complete strangers want to touch your hair
. Complete strangers want to have a chat about your ass, your skin, your lips. They want to pet you, feel you, violate your personal space, cross your boundaries, and you're "supposed" to merely roll over and let it happen because after all, they're just being "innocently curious" and
they
can assure you they're not racist, because they don't even "see" color, so
you
shouldn't get angry
at all
when they break the most basic rules of human courtesy.
1) If they weren't racist and really,
truly
, wanted to know more about other folks,
they'd live with other folks
. They'd look for neighborhoods with other folks. If a real estate showed them a house in neighborhood where
every single resident
looked like them, they'd flee in the opposite direction. But they don't do that. They want it all; they want to experiment, explore, then return to a world without "Others" and spread flawed, incomplete information.
2) Anyone who says they "don't see" color is delusionally racist. "Race" may not exist scientifically, but "color" clearly does. Humans are a "color-coded species", so to speak. Ignoring a
color
means ignoring the entire history, language, culture and overall identity which possibly goes with that color--and
that
, people is the ultimate dehumanization.
Now, anyone who says they "don't see" color, then proceeds to ask you a million questions about
yours
while they touch your features--which they obviously "see" as
different
from theirs--is idiotically racist. Apparently to them, 1 brown crayon + 1 brown crayon = Jell-O.
3)
Touching a black woman's body without her permission
and then
telling her not to get angry
is not only doubly,
agonizingly
racist, but it's likely to bring out the "bitch" if she's a stranger, or the "cold" if she's a coworker who takes her bills seriously.
Whether you think simply touching her hair is harmless or not is irrelevant
. We're not pets or curios. We're fully human, and you don't get to dictate to us how
you
should get to treat
our
bodies. And since the average human being
doesn't
like strangers coming up and touching their bodies, or even being asked details about their bodies...guess where
we
stand?
Conclusion?
The shithead who smacked Get Ready on her ass, and the dickless twits who laughed about it, should all be killed.
The shithead herself should get to die the slowest. White women can't have their cake and eat it too. You can't bitch about male assholes, and then act like one. If you're wondering
why you invoke the ire
of so many females of color, then this is something you might want to stop and consider. You can't cry sexism when someone crosses
you
, and then act like a sexist to a fellow woman. Because this is
precisely
what women of color, especially black women, mean when we say whites often see us as being "less" than human. Shithead up above no doubt felt
she
herself
was a woman. If one of those giggling dickless twits had smacked
her
ass,
she'd
have raised hell--and rightfully so.
Also, I don't appreciate the double standard. Get Ready worked in a law office, not on a porn set. There was nothing "okay" about violated by another woman.
I
think Get Ready should've raised hell. People of color will not continue to make progress if we tolerate shit like that. Get Ready is right--this
is
the 21st Century. POC have already survived this long in America, through unspeakable hell and horror. We will survive even longer if we continue to rightfully raise some hell.